When is the best time to visit Thailand?
What is the smokey season?
If you plan to travel to the northern part of Thailand, especially Chiang Mai, you should really try to avoid the smokey season.
The smokey season is a result of several incidents that combine, but the main reason is that the farmers in the north burn of their rice fields in this period.
The smokey season starts early in January and last until the middle of May, with a top where it's normally at the worst in March.
How about the water temperature in the sea?
If you plan a beach holiday the water temperature should not be a factor when it comes to which period that you plan to travel to Thailand. I the eyes of western tourist the water temperature will always be pleasant and will normally fluctuate between 25°C/ 77°F and 30°C/ 86°F.
You will normally find the coldest water in December and January, but it's really no problem since its still to consider as warm.
Some good reasons to travel to Thailand in the rainy seasons.
For beach tourists the best season is considered to be December to March, but there are at the same time good reasons to consider travelling to Thailand outside this time period. Especially in very touristy area it can be a turn of to travel in this high season.
When you travel in the low season you will get better prices, especially on accommodation and airplane tickets. When it comes to other prices like food and service the prices seems to stay mostly at the same level through the year.
The smokey season, which we already have mentions is another important factor to avoid the dry season if you plan a vacation which is not focused on the beach life.
When there Is less tourist and visitors you will notice that you receive much better personal service on hotels, restaurant and other places. Simply because they have better time to take care of you as a customer. Remember, Thailand is the land of smiles, but even Thais can be stressed and busy and not manage to stay as polite as they want to.
Because of these factors, you will probably experience a more authentic part of the culture of Thailand if you travel outside the high seasons.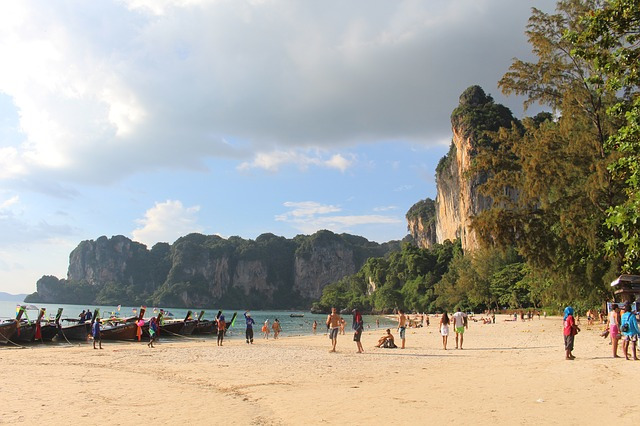 Railay Beach is stunning, but the experience can be a bit ruined by too many tourists.